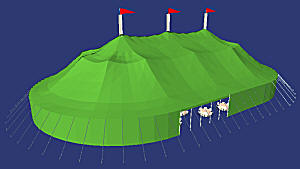 PartyCAD 10.0.22 Required!
You can download Big Top tents for use with PartyCAD's Tent Wizard if you have PartyCAD 10.0.22 or later. To find your version of PartyCAD, run the program and then click About. If you have Version 10 Build 22 or later, you can download and use these tents.
If you have an earlier build of Version 10, you can update to the latest build here.
If you have PartyCAD 9 or earlier, you will have to upgrade to version 10 or later to make use of these tents. To read the PartyCAD 10 newsletter and find out how to upgrade click here.
Downloading the Tents
Once you have PartyCAD 10.0.22 or later on your machine, stop the program if it is running and then download the Anchor Modules by clicking:

This will place the needed files on your machine. The next time you start the Tent Wizard you will see an Anchor Modules category has been added to the Tent Wizard Library screen. Click this to access your new tents.
Using the Tents
Click here to see a short video that explains how to use the Anchor Modules. Big Top tents work in much the same way.